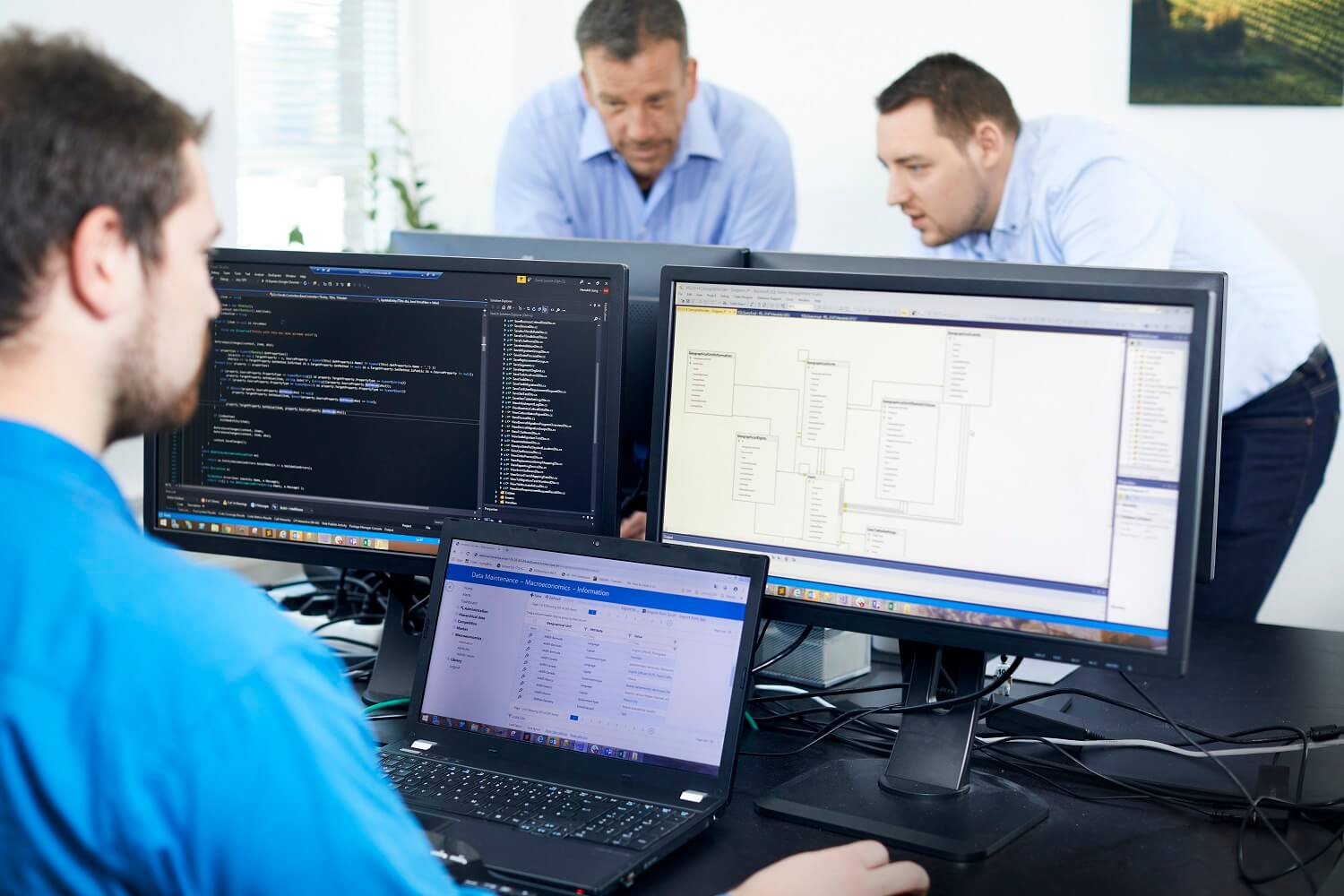 Mit Ihnen gemeinsam zur Operative Excellence
Mit Hilfe unseres bedarfsgerechten Supports sowie einer auf Sie zugeschnittenen Software-Unterstützung optimieren wir Ihre internen Projekte und Prozesse und steigern Ihre Produktivität nachhaltig!
Unsere Leistungen
Wir leben Ihre Prozesse und Projekte
Prozesscheck
Unser Prozesscheck dient der schnellen und umsetzbaren Optimierung von Abläufen mit einem direkten operativen Nutzen.
Anforderungs­management
Wir verstehen Ihre Prozesse detailliert und definieren gemeinsam mit Ihnen die Anforderung an eine digitale Unterstützung Ihrer Wertschöpfung.
Individualsoftware
Wir sorgen dafür, dass spezielle Prozesse unserer Kunden individuell und maßgeschneidert digitalisiert werden.
Operative Unterstützung
Wir unterstützen Sie bedarfsgerecht als externe Projektmitarbeiter oder als Outtasking-Dienstleister bei der Durchführung Ihrer Projekte.
Our offers in detail
Consulting that works!
Individual software for workflow management
You don't like to be pressed into a template – and this also applies to your internal processes. In order to be able to optimise and digitalise successful and lived processes nevertheless, you need a secure and user-friendly individual software. In this case, we develop a solution in the Microsoft environment that optimally supports our customer's requirements and activities, based on a rough concept, specifications and, if necessary, a joint process analysis.
Project and roll-out database
Are you planning an extensive launch of a new software or hardware project and would like to ensure that your changeover runs in an orderly and structured manner? We are your trustworthy partner for handling even the largest internal changeovers and provide you with the necessary transparency and security.
Operational support tailored to your needs
Regardless of whether you want to work with us on the conception of your project or whether you need support in a project that is already underway – you can rely on us as a partner in demand-oriented roles. We react flexibly to changing requirements in terms of project scope and duration.
Das sagen unsere Kunden
Wir bedanken uns und freuen uns über das Vertrauen unserer Kunden
"Angefangen von der Implementierung bis hin zur ständigen Weiterentwicklung hat uns Cedura durch kompetente Beratung tatkräftig begleitet, eine leistungsstarke und branchenorientierte Softwarelösung zu gestalten, die uns in unserem Tagesgeschäft effektiv unterstützt.
Besonders das hohe Engagement und die individuelle Ausrichtung macht Cedura zu einem zuverlässigen Geschäftspartner mit dem wir gerne zusammen arbeiten. So können wir das Marktgeschehen in der Branche fortwährend analysieren und bleiben immer auf dem neuesten Stand."
Von den ersten konzeptionellen Ideen bis hin zur detaillierten Umsetzung – Cedura hat uns mit viel Expertise und Engagement bei der Umsetzung unserer individuellen Wünsche erfolgreich begleitet.
Im Ergebnis steht eine pragmatische Systemlösung, die uns aufbereitete Marktinformationen für strategische und operative Entscheidungen liefert."
Referenzprojekte
Erfahren Sie mehr über unsere Projekte zu Operative Excellence