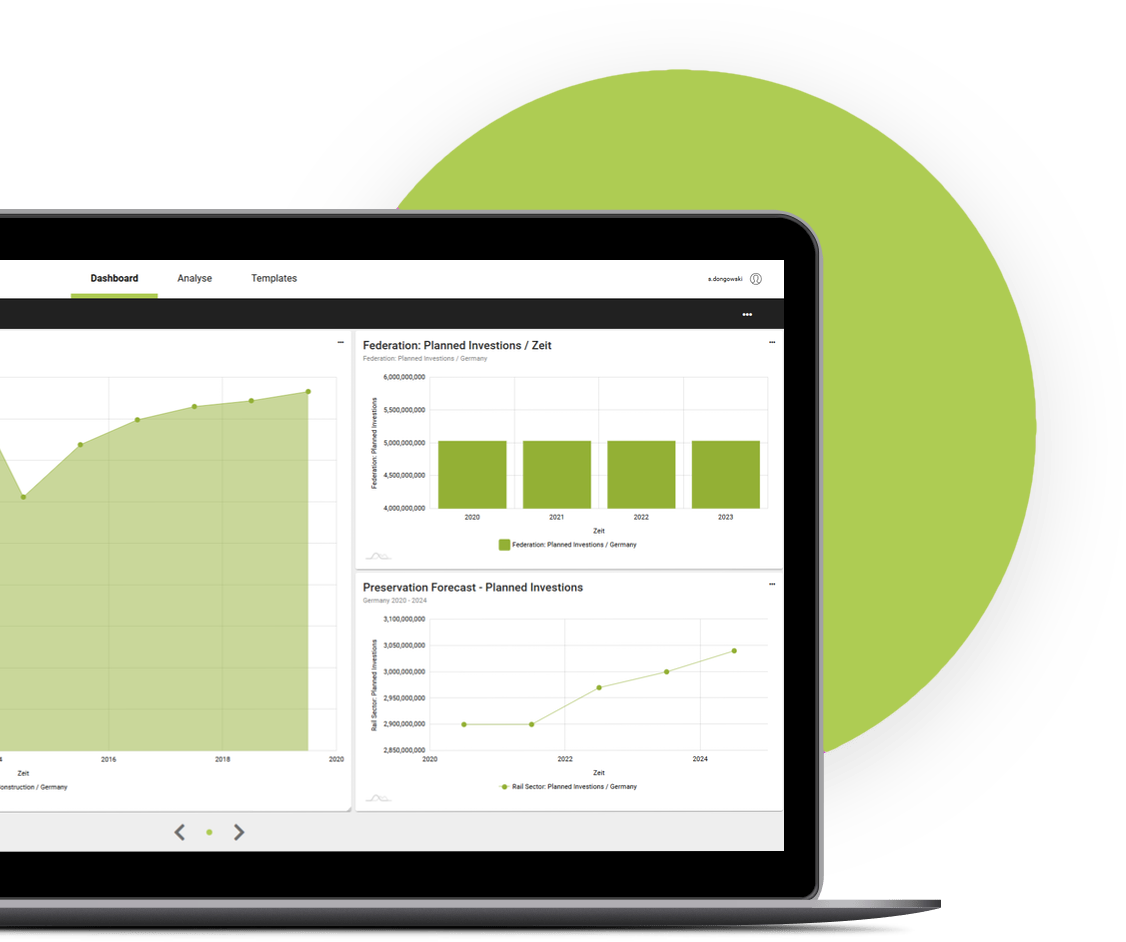 Understand your market
Our CedDecider software is fully customisable to your needs and your business. We collect data from a wide range of sources, consolidate them for you and prepare them clearly – thanks to Cedura, you always get a comprehensive overview of your entire market situation!
Why CedDecider ?
Our Market Intelligence System can be flexibly adapted to your needs
Free test
Even BEFORE you place an order, we will create a prototype tailored to your needs free of charge, which you can test without obligation!
Modular structure
Our CedDecider consists of several modules that you can combine flexibly. This way you avoid unnecessary additional costs and get the information that is most relevant for you.
Automatic updates
No matter from which sources your data comes – we collect it with the help of our flexible integrations and update it automatically!
Great service
Whether you are taking your first steps with our software or would like individual sparring to better understand further potential in your market – we are there for you!
Interested?
Arrange your free trial now!
We are convinced that our CedDecider will give you a comprehensive overview of the market relevant to you. Therefore, we are happy to set up a free test tailored to your needs with the data relevant to you.
Do not hesitate and make an appointment for your free test now.
The modules of the CedDecider
Flexibly combinable, together unbeatable!
Competition module
Who are your competitors? What market shares do they have in which market segment and how do they act, currently and in the future?
Our Competition Module shows you a constant comparison with your company according to your desired criteria and enables you to act all the more efficiently in competition.
Create holistic profiles with CedDecider. All available information is systematically collected, linked and output. This gives you an up-to-date, comprehensive picture of your competition at any time.
Keeping the overview
Keep statements about the competition based on sound data
React to changes
Detect changes in the competitive environment directly thanks to automatically updated data collection.
Reliable predictions
Assess the intensity of competition correctly in advance to avoid unnecessary risks.
Products and prices module
What products does the market demand ? Which products are already on offer? And with which price and sales policy are they marketed?
With the help of our product module, product comparisons at different levels of detail, price developments and sales campaigns can be tracked and analysed up to date.
Configurable interfaces automatically provide the relevant information.
Strengthened by these insights, you can make safe as well as innovative decisions or act according to demand.
Compare products
Compare your products with those of the competition and gain valuable information to optimise your product portfolio and generate strong sales arguments.
Monitor price developments
Identify historical and current price trends across various sales channels and optimise your pricing based on the latest information.
Track sales promotions
Track and analyse your competitors' sales campaigns and promotions and improve your campaign planning and negotiation basis with retailers and sales platforms.
Market module
What is your relevant market? How big is it, how is it developing?
Our market module shows you not only a view of the entire market, but also the individual and regional segmentations and evaluates them according to your defined criteria.
CedDecider takes into account the latest information from various data sources as well as your knowledge and provides you with consistent information and market needs. Historical. Current. Future.
Strengthened by these insights, you can make safe decisions and act efficiently on the market….
Market developments at a glance
Trust the combination of various sources to get the best possible view of future market potentials.
Identify trends and needs early
Be one of the first to recognise market changes and new opportunities and act with foresight in line with the market.
Know regions and segments in detail
Use detailed market data in individual segments and regions and improve your market opportunities and shares.
Macroeconomics Module
Which economic changes are emerging in which regions? Are there political barriers or legal peculiarities? What are the impulses for your business?
With the help of our macroeconomics module, you can evaluate the overall economic situation of different regions in a targeted manner and analyse it according to a variety of key figures, even across sectors.
Strengthened by these insights, you can make forward-looking, sustainable decisions and act at an early stage.
Recognise market impulses directly
Take important indicators for the development of your business from your impulse markets.
Take new behaviour patterns into account
The macro-ecological evaluations enable you to make targeted projections.
Make barriers transparent
Analyse political barriers and geographical rules and laws to prepare or expand your market entry.
What our customers say
We thank and appreciate the trust of our customers
"Starting with the implementation up to the continuous further development, Cedura has actively supported us through competent consulting to design a powerful and industry-oriented software solution that effectively supports us in our daily business.
In particular, the high level of commitment and the individual focus make Cedura a reliable business partner with whom we enjoy working. This allows us to continuously analyse what is happening in the market and always stay up to date."
From the first conceptual ideas to the detailed implementation – Cedura successfully accompanied us with a lot of expertise and commitment in the implementation of our individual wishes.
The result is a pragmatic system solution that provides us with prepared market information for strategic and operational decisions."
Any questions?
Here you will find answers to the most frequently asked questions about the CedDecider
Can the CedDecider be adapted to our corporate identity?
Our CedDecider can be completely adapted to the look and feel of your company. You can also make further settings yourself in order to be able to score professionally with our WhiteLabel Solution in front of your customers.
How does the data get into the CedDecider?
The CedDecider adapts flexibly to your requirements and, in addition to the manual addition of data, naturally also allows the import from a wide variety of data sources. Even if you have not yet recorded your data automatically, we will find a customised solution for you.
Does the free trial version of the CedDecider offer the full scope?
Of course, the free test version of our CedDecider already offers you the full range of functions of the modules you would like to test.
In addition, we already equip your test environment with data from the market relevant to you, so that you can get a comprehensive picture of how our software will help you in concrete terms.
Can data and evaluations be exported from CedDecider?
All evaluations and tables that we generate for you with the CedDecider can also be exported to other file formats. By default, we support export as:
.pdf document
Word document
Excel spreadsheet
as well as all common image formats (.jpg, .png, etc.)
How quickly is the CedDecider available?
Immediately after starting your test, we provide you with access to our CedDecider. We calculate around 4 – 6 weeks for the implementation to the full version.
For particularly complex systems that require automated data collection from various sources, the implementation may take several months. We will be happy to provide you with more details after a concrete enquiry and analysis of your needs.
Is there an integrated document storage option in CedDecider?
In addition to the possibility of connecting existing document management systems, CedDecider also has its own document management system for the central storage and indexing of
Documents
videos
technical drawings
and more
Can several employees test the CedDecider?
Our test system can be used by several users at the same time. In particular, you can also assign roles and access rights specifically to check how your use case can be mapped with our CedDecider.
At what intervals is the data updated?
The upload intervals can be recorded in information groups. For example, price information or news can be uploaded daily, key competitive figures quarterly and market data semi-annually.
The definition of the upload intervals can be adjusted at any time according to need.